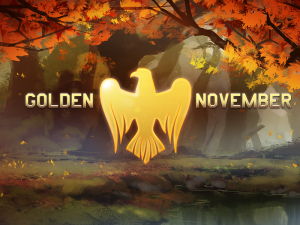 In diesem Monat hat sich Gaijin wieder was einfallen lassen. Am 10.11. wurden schon 100 golden Eagles ausgezahlt, aber es geht weiter. Am 17.11.2013 sowie am 24.11.2013 erwarten uns wieder spezielle Events an denen wir wieder massig Eagles ernten können.
Wir lassen uns überraschen.
We hosted the Golden Fights on November 3rd, which allowed the players to obtain up to 400 free Eagles. Another 100 Eagles will be given away for just a single victory, the 'Golden Victory' gained at any time on November 10th. The next instance of Golden Battles will be hosted twice on November 17th, so that players from any time zones can participate. And finally, there will be a unique Golden Eagles event on November 24th, something you have never seen before!
Quelle: Gaijin Forum